Time for a new caption contest
The winner of the previous contest was
Qui-Gon Jinn
with this obvious comparison or Putin and Tarkin:
(06-18-2009, 01:22 PM)

Qui-Gon Jinn Wrote:
Putin: Since you are reluctant to give my country more oil, I have decided to test my new Death Star on Iran.
Khamenei: No, Iran is a peaceful country, we don't got any weapons!
Putin: Well, you prefer another target, a military target, then name the country! I'm tired of asking this, so make it the last time, where are your nukes?
Khamenei: Uhhh... they're in the U.S.
Putin: You see, he can be reasonable, continue with the operation you may fire when ready.
Khamenei: WHAT!
Putin: I don't trust you, the U.S. is far too powerful of a target. But don't worry, I'll be dealing with them soon enough.
Khamenei: NO!!!!!
(Iran is vaporized)
Anyway, for the new image, lets have fun with some more world leaders, in this case Queen Elizabeth and Turkish president Abdullah Gül and their spouses: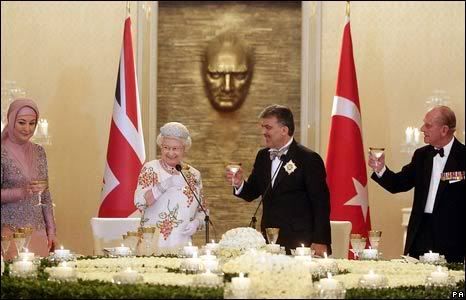 Caption Away!
Here is where my signature begins...

And here is where my signature ends. What, were you expecting more?